Review Date
27. September 2018
We don't have any deal with this Online Casino. please visit our List of Regulated operators
Vic's Bingo: Introduction
Vic's Bingo started out in 2002 and has been delivering a top end service for bingo players- not just in the US, but Europe also- since. Vic's Bingo offers up a friendly and easy to use (plus attractive on the eyes) site, it's jam-packed with promotions, has an awesome community vibe, top-level VIP program and is– definitely one of the most trustworthy rooms online. Vic's Bingo keeps things interesting by using a range of software providers to offer some of the best gaming options on the market, they also promote a highly social experience.  Keep reading our full-length Vic's Bingo review to find out everything you need to know before choosing where to play bingo!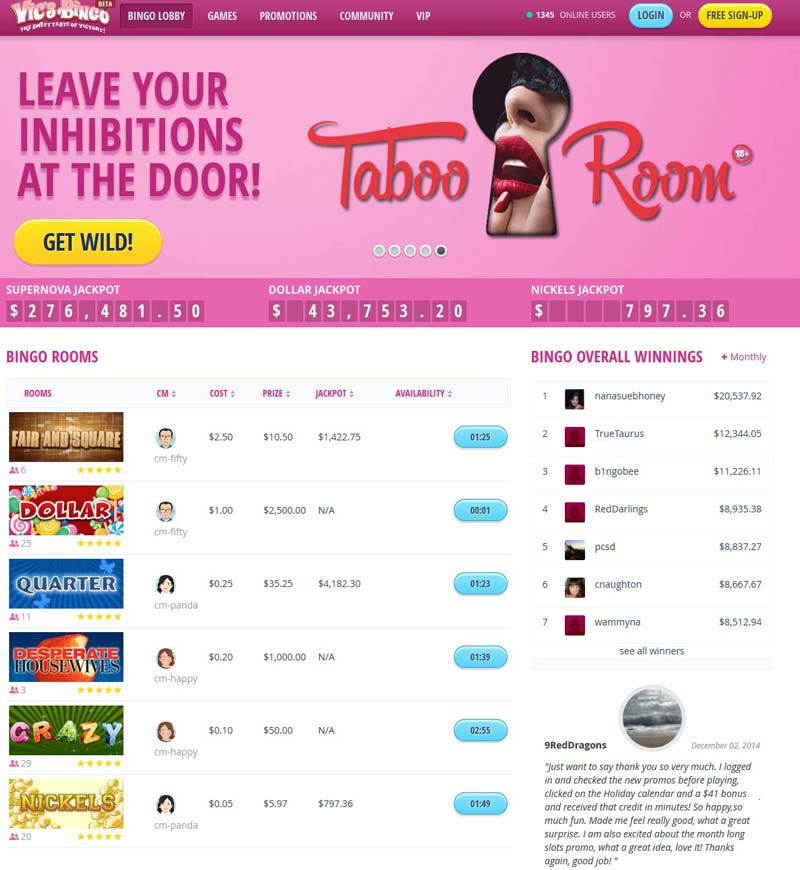 Vic's Bingo Welcome Offer and Promotions
Vic's have some varied sing up bonus options but the best one on offer through bingo.org is a $35 free no-deposit bonus. They also have very good deposit bonus once you are signed up with your account. For example, they have daily schedules for deposit bonuses – on Wednesdays they have the following offers;
Deposit $1000+ and get 2000% bonus
Deposit $500 + and get 800% bonus
Deposit $250+ and get 7000% bonus
Deposit $50+ and get 600% bonus
Deposit up to $50 and get 250% bonus
Pretty great options aren't they? Our Vic's Bingo expert reviewers certainly thought so! Vic's Bingo Review Tip: make sure you check the promotions page as they have daily deals on all deposits, all the time, you don't need to be a new member! They are from 250-2000% dependent on how much you are depositing and the day, so check the schedule! 2000% matched is also the highest matched deposit we've ever seen, but check the T&Cs for playthrough requirements. It's not just amazing deposit bonuses on offer, Vic's Bingo is crammed with regular promotions on rooms and games, they also have some incredible prizes on offer.
Probably one of the top rated bingo rooms in terms of VIP or loyalty programs – they take care of their customers on each level very well and have many different levels for every type of player / member (you achieve VIP stars though your gameplay and as you collect stars you move up through the different VIP levels). You start at the "basic" level and move up through – rookie, steel, bronze, silver, gold, platinum, princess, queen, champion and finally "master" level as you can see from the screenshot here.
Vic's Bingo Games
A plus for Vic's Bingo is given by their wide range of games available. You are not only constricted to play 75-ball and 90-ball bingo. You can also test your luck at arcade games such as pull tabs or keno, video poker, exclusive slot games, classic casino tables and live dealer games. Whilst Bingo is their main offering, there are actually hundreds of games on this site so there's loads to keep you busy! If you want to have even more fun while winning some extra cash, check out all of the promotions that are rolled out even on a daily basis. All of these are designed to keep you entertained and interested in everything the room has to offer.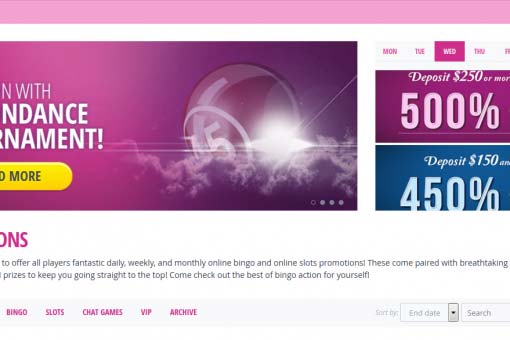 Our Vic's Bingo review found they have some great pre-set jackpots and also lots of progressive jackpots, you can see the image below for some of their current jackpot amounts: their supernova jackpot is currently at a whopping $276,481 – which will be hard to find elsewhere. You can view the range of bingo rooms on offer in the screengrabs below, but there is something for everyone and the cost of the cards starts really low, so make sure you take some time and experiment with this site!
The gameplay and graphics on Vic's Bingo has actually been improved significantly and received a facelift in the last couple of months so it much more modern in both ease of use and play as you can see from the screenshots below. One of the things our expert Vic's Bingo reviewers like so much about Vic's is the volume of promos and special rooms they have – they have daily, weekly and special happy hour promos and rooms and their special holiday or date games and promos are hard to find elsewhere. They are creative and always have cool games for the season whether its valentine's bingo games in Feb, Easter games or Christmas offers they are constantly challenging and exciting their players with their game variation.
Vic's free play bingo is also one of the better options available online and are available 24/7, unlike some rooms where they seem to limit this type of bingo gameplay to low or off-peak hours. Their game cards/tickets also have a wide variance when it comes to costs so normally you will find a game to suit any kind of budget throughout the day.
Vic's Bingo Software
In terms of gaming software, This Vic's Bingo review can reveal they use some of the biggest names in industry- Pragmatic Play, Parlay, BetSoft and Rival. Not only does this mean players know they are wagering in safety, but you'll also get to play an incredible mix of some of the best games out there, and you are not limited to bingo! The software used to create the Vic's Bingo site makes navigating the site and actual gameplay easy and superb, as we mentioned a recent revamp of the site has added some incredible features (as well as enhanced graphics and navigation) that create a unique players experience with Vic's. They include:
Customized Profiles and User-Friendly Interface
The new Vic's Bingo was designed around the main concept of creating a more personal experience, making the player feel as comfortable as possible while playing online games. This leads to a more individualized user profile, where every player can easily update and remain informed of their overall online activity. The improved interface makes it easier for members to verify their account balance, keep track of their position within the VIP Level hierarchy and stay tuned with fresh updates and promotions. It is also perfect to use when fast searching for games, deals and any type of information within the site.
Social Opportunities and Online Interaction
Online bingo is not just about gameplay entertainment, and Vic's Bingo proves it by bringing new social features for its users. Bingo rooms are accompanied by real-life Chat Moderators that will answer all questions and that will build a more exciting atmosphere. In addition, social networking opportunities for users are taken to another level with several new features such as:
•    Interaction with other Vic's Bingo members
•    User status updates
•    Shares and likes
•    Keeping track of personal online activity
All these elements have been combined through a well-crafted online strategy that aims to improve each and every player's experience at Vic's Bingo. The best place to be is where you are comfortable enough to feel like yourself and that is exactly what the new site was created for.
Vic's Mobile Bingo
In hand with their new revamped site launch, Vic's Bingo has also re-designed their mobile site. While they are not currently offering a downloadable app, their mobile-based web app is top notch and very much leading the way in terms of mobile bingo play. Check out the screenshots below for some screenshots of Vic's bingo's new mobile site. Their mobile site works for both iPhone/IPad and android devices so no matter what you are using you can take part, and the ease of use for the site's navigation, registration as well and most importantly the actual bingo gameplay really is brilliant. A big improvement on their older version- so we can really commend the work they have put into the new version to take their bingo room forward.​
Registration and Payment/Deposit Options
Our Vic's Bingo reviewers found that registration is very easy- just a couple of steps through user details and deposit options-both are simple and quick. A real positive thing about Vic's Bingo is their speed of payment. Other bingo websites might take a lot before they give you the money that you requested or have catches such as minimum withdrawals, but Vic's Bingo processes your withdrawals in a matter of hours, no matter the amount that you requested. So that is a tick in an important box. They accept many different options for deposit and cashing out including – Visa, Amex, MasterCard, Neteller, Eco, Skrill, Bank Wire (although this can be a slow option) & PaperCheck. It is worth noting that as with most websites PayPal is not available as a payment method for customers based in the USA.
Vic's Bingo Support and Security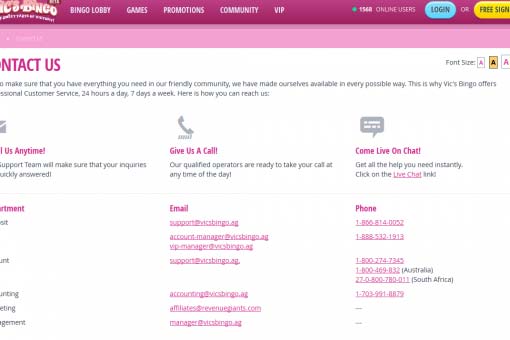 There's 24/7 support through multiple channels and across different locations so that no matter where you are playing from in the world you can always get the help you need, this is a great attribute and not one that all bingo rooms can provide. You can see full contact details in the image below, but the main methods of support are through – Email, Phone and live chat- and they have very helpful service.
Vic's Bingo is SSl certified though Thawte (a top authenticator of security measures on the web) using the latest and most "state of the art" encryption and secure data protection methods so they have full control and protection over both your personal data and details. They will not share or sell any of your information and are fully anti-virus integrated to ensure not such corruption can occur. Our reviewers found Vic's Bingo really pride themselves on their security levels and measures and spend a tremendous amount of money and time making sure they are safe and secure so you can put your mind at ease.
Vic's Bingo Review: Conclusion
This Vic's Bingo Review concludes that Vic's offer a great all-round experience. They've really invested in the social element of their site- which pays off as its perfectly in tune with what most players want. Overall a great room for US players (and European players) and their new revamp on both website and mobile makes them an excellent choice. We are confident that you won't be disappointed! Join in the fun with Vic's right here, right now through Bingo.org to get the best available bonus!They offer some incredible promotions (of which there is a vast selection and always something fresh on offer) and great games from a selection of world-class software developers! What more can we say, apart from, go play!