One of the things we all love about Bingo is its simplicity. It's a game about pure focus and fun and there's not much more to it. That said, before players jump in and start playing they do need to learn about the types of electronic Bingo they can play, what electronic bingo cards look like and how the electronic Bingo cards work, so keep reading cause it's all right here for you!  In this article, we're going to tell you everything you need to know about bingo cards for each variant, typical price ranges for electronic bingo cards and prizes!
Best Bingo Rooms Online
Electronic Bingo Cards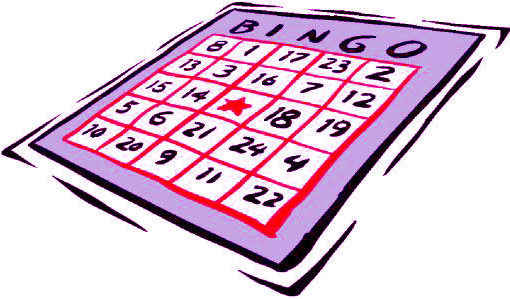 Most of us will have come across the plastic, reusable bingo cards at some point in our lives, be it school, charity functions or church events, but when you are playing bingo at your average bingo hall,  (whether you are playing online electronic bingo or live) players don't use these actual bingo cards. Online, you'll be playing with bingo software, which includes an electronic bingo card and most land-based bingo halls utilize a packet of paper, glued together at the top and referred to as a packet. Each piece of paper in a bingo packet has several mini 'bingo cards' on it. The entire page is played during each game, so you're not just daubing one bingo card, you're actually playing 6 or so bingo games at one time.
Online electronic bingo sites use the same version of bingo card as you expect to get in a live bingo hall except for obviously the daubing is done electronically and even automatically if you so wish, which means you can play more strategically as you can increase the number of cards you play (we'll come back to this later).
How to Play e-Bingo with Electronic Cards
In a live bingo hall, you would normally have to keep up with the bingo caller as they called numbers at a quick pace and you dab them off your card/s. The speed and competitive edge is part of the fun of bingo, but it can make it difficult to keep up, especially if you are playing to increase your chances of winning by playing multiple cards at once. Online, this is even simpler as you don't have to do anything but watch the show if you don't want to. Your bingo numbers are called out by the online bingo hall caller (usually a virtual personality) and then they are automatically daubed for you on your bingo card. When you make a win or bingo it's automatically called for you too!
Playing online is all about giving you more options, so you can opt to mark your own bingo cards online if you so choose. Whatever you choose, your bingo cards will still look the same, but for every different type of bingo, there is a different bingo card. This is because depending on the bingo game played there are a different number of balls in play, e-bingo card used and winning combination/s possible. We'll cover the 4 main types of bingo here.
Electronic

Bingo Cards: 90 Ball Bingo

This is the big favourite of players all over the world, especially in the UK, and it is the traditional variant of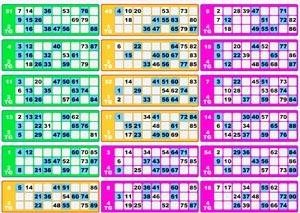 Bingo. 90 Ball electronic bingo cards are made up of 3 rows and 9 columns with a total of 15 numbers on each card. There are 5 numbers and 4 blanks per row.
The picture shows lots of bingo cards together, as we mentioned earlier, 90 ball bingo is usually played with a packet of cards, which is shown here. 90 ball bingo is the variant with the most balls in play, which means it is often the longest game and can go a little slower than other variants, but it also provides many different ways to win. Players often enjoy it's more leisurely pace.
Prizes are awarded for:
One line
Two Line
Full House (BINGO)
To understand a 90 ball bingo card it is helpful to know that the first column contains the numbers 1-9, second 10-19 and so on till the ninth column which ends with the numbers 80-90.
Electronic Bingo Cards: 80 Ball Bingo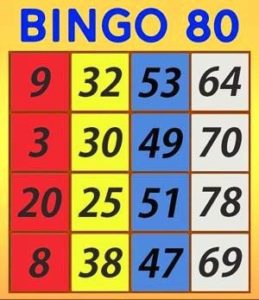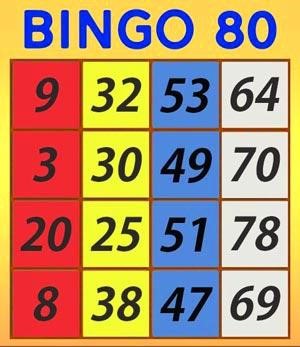 80 ball electronic bingo cards look really different to 90 ball bingo and are more similar to the 75 ball variant. In 80 ball electronic bingo, the card has 16 numbers and the card is square shaped, made from a 4×4 formation with no blank spaces. Each column has a different colour and this helps you quickly identify different numbers:
Red: numbers from 1 to 20
Yellow: numbers between 21 and 40
Blue: numbers between 41 and 59
Grey: numbers between 60 and 80.
You can win prizes in 80 ball electronic bingo in multiple ways….great news! You are awarded for making:
Diagonal, horizontal and vertical lines.
Four Corners and Square: Complete all 4 corners of your bingo card, or the middle 4 squares before other players.
Full House.
Electronic Bingo

Cards

: 75 Ball Bingo

75 ball electronic bingo is faster than both 80 or 90 ball and is
America's favourite variant. The electronic bingo card is made up of a square 5×5 grid. The word BINGO is written across the top and this is how you know which numbers are where (there are of course 75 numbers that can be called in this variant of electronic bingo)
B: numbers between 1 and 15
I: numbers from 16 to 30
N: numbers from 31 to 45
G: numbers from 46 to 60
O: numbers between 61 and 75
There are a total of 24 numbers in play. Take note of the blank space in the middle of the electronic bingo card. This is very important as it allows you to make patterns and that is how you will win with 75 ball bingo.
Electronic Bingo: 30 Ball Bingo
Players like to call 30 ball bingo, speed bingo as it is the fastest variant of electronic bingo available. The bingo card is also the smallest, made up of a 3×3 grid, containing only 9 numbers. This is the kind of electronic bingo variant players who are in a rush or looking for a quick bingo fix play.
To understand the bingo grid the columns can contain the following numbers:
Column 1: numbers from 1 to 10
Column 2: numbers 11 to 20
Column 3: numbers from 21 to 30
Generally, there is only one way to play and win 30 ball electronic bingo and that is to get all the numbers on your card- a full house. Whilst you may find the odd bingo hall that offers single line wins- it is very uncommon with 30 ball bingo as there just isn't time in the game!
What is the Best Electronic Bingo Card to Play?
We are often asked; what is the best type of bingo to play if you want to win? The answer is not straight-forward, because bingo is a totally random and luck based game which uses a random number generator. It is true that the number of balls in play affects the odds of each number being called, but there is very little variation between the games (90 ball- 0.011%, 80 ball-0.0125%, 75 ball- 0.013%) and with every number called the odds of your numbers being called are increasing.
In reality, we recommend that you should play the variant you enjoy the most as having fun will certainly help your overall electronic bingo experience. That said there are a few ways in which you can increase your chances of winning electronic bingo:
Know the rules: it's important to make sure you know how to play and the T&Cs of the bingo variant and provider you choose before you play to give yourself the best chance of winning.
Play more cards: increase your odds by increasing your cards and therefore chances of winning. If there are 10 players each with 1 card each and you have 5 cards, the odds of you winning over the other players are much higher. Make sure to factor in the cost of the cards against the potential payouts. If you spend too much on cards and the prize amount is low this will negate your winnings, always be strategic and don't forget to use an automatic dauber if playing multiple cards!
Play electronic bingo at off-peak times: increase your chances of winning by playing when there are fewer players competing for the prize.
Remember jackpots attract more players: just as peak hours attract more players, jackpot games can be busy places and the more players the more competition for the prize meaning the lower your odds of winning it.
Winning with Patterns
At the start of the game, a predetermined pattern will be decided by the bingo hall, your mission is to make this pattern using your bingo card by marking off the numbers called. This is the most innovative type of electronic bingo as you can play for literally any pattern, but you will still find the standard winning combinations such as a full house, two lines ext.
Some examples of different patterns are the letters T or X, but you will also come across Christmas themed games and gimmick patterns such as four-leafed clovers- anything can go and bingo halls love spicing things up! Read more about the weird and wonderful world of bingo patterns from the Bingo.org experts here, or relax and have fun with some of the best bingo jokes out there!
Bingo
Card Costs and Prizes
The cost of bingo cards ranges and very much depends on where you choose to play. You can shop around and find free bingo cards and rooms with free to play hours, but often the prizes on offer will also be low,  or you'll be playing for website credits and additional free cards only. The lowest priced cards start from as little as £0.01, usually, the cost of cards will stay way below £1.00. This is part of why online bingo is so much fun, as everyone can play and it is not too taxing on your wallet.
Due to the range of bingo cards on offer, we recommend starting by working out your bingo budget, as well as deciding what range of prizes you want to win. Once you've got an idea of this you can start looking for the type of bingo rooms you want to enter to achieve your electronic bingo aims.
Payouts and prizes depend both on the cost of the card and the number of people playing. Sometimes prize amounts are guaranteed and are shown before you enter the bingo room, at other times they are not and will be calculated based on how many people play and cards are sold. It is also possible to play jackpot games of e-bingo, but remember that they tend to attract a lot of players, meaning the chances of you having the winning card are reduced!