This article is intended to teach individuals Bingo rules and how to play Bingo. No Matter which Bingo Game- 75-Ball, 90-Ball, 80-Ball or any other Bingo game variation the main or basic premise is the same. The player must match the numbers on the balls randomly selected by a caller, to those on their bingo card/or ticket in a certain pattern. If the Player is the first person to match their numbers to those called out first, they are the winner.
How To Play Bingo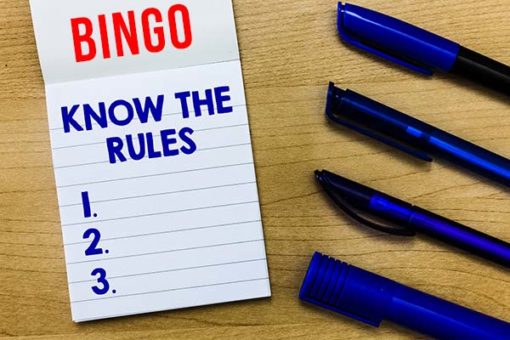 Whether playing online or offline, players must first purchase bingo cards/tickets. If playing in an offline Bingo Hall, the player will be given a 'Dauber' to mark all called numbers. Many offline Bingo halls offer electronic Bingo tables, where the player is not required to daub cards. A software program will do this automatically at the electronic tables. This requires renting of the table, which, of course costs extra. Playing online bingo, however, offers auto-daubing automatically. The feature can be disabled, but is generally preferred by most online Bingo players.
In 75-Ball American Bingo, a winning 'pattern' will be issued before the game begins. This is the pattern that must be 'daubed' in order to win the Bingo game. There are several major patterns most often used – X-pattern, 4-corners, Coverall, etc. – but playing Bingo online commonly offers more than 300 patterns in Bingo games. Once the Bingo game begins, a computerized 'random number generator' will decide the numbers called.
This ensures absolute fairness and random selection of numbers in each and every Bingo game. Both offline and online Bingo halls utilize this modern technology. The numbers are displayed on a large board (or on the computer screen) as they are called. If personally daubing the numbers, each player must pay close attention to the numbers called, searching each card/ticket for that number and daubing accordingly. The more cards/tickets a player purchases, the more quickly they must find the numbers and daub them before the next number is called.
However there are quite significant differences or nuances in each of the bingo game variations. Below you will find a full overview of the rules of each bingo game, how to play each style and the differences between each bingo game variation. Let's start with the main two games US Bingo (otherwise know as 75 – ball bingo) and UK Bingo (otherwise know as 90 – ball bingo). It should be noted that both 90 & 75 ball games along with other variants (crazy, 80 balls etc.) are usually always options for those playing online. as the bingo sites usually cater to all game types.
American Bingo – 75-Ball Bingo
In America, Bingo players enjoy 75-Ball Bingo. This traditional game uses 75 numbers, with groups of fifteen divided by the letters B, I, N, G and O. B is used for numbers 1-15, I for 16-30, N for 31-45, G for 46-60 and O for 61-75.
The Bingo cards are squared – 5 numbered spaces across and 5 down – totaling 25 spaces. The center space is marked "FREE", automatically being 'daubed' by all players. Each remaining space on the card is randomly filled with numbers, according to the B-I-N-G-O layout. Players must fill the required spaces to complete a pattern, as defined at the start of the game.
For example, an X pattern would require daubing two diagonal lines, top-left to bottom right and top-right to bottom left, in order to win. Another example would be 'Coverall' Bingo, also known as 'Blackout', where the players are required to cover, or daub, all numbers on the Bingo card.
UK/European Bingo – 90-Ball Bingo
In Europe, players enjoy a different kind of Bingo. The basic premise of the game is the same, but the Bingo card and winning patterns are completely different. First of all, they are not called Bingo Cards, but rather Bingo Tickets. 90 numbers are utilized instead of 75. The card consists of three rows of numbers in 9 columns.
There are 5 numbers in each row, with the remaining spaces left blank. That makes a total of 15 numbers places in 27 spaces. The first column can hold numbers between 1-9, second column 10-19, and so on, until the final column which can hold numbers 80-90. Winning Bingo tickets are awarded in 3 phases – 1-Line, 2-Lines and Full House. For every game, there are at least 3 winners. The player who gets one full line across daubed wins the first prize. The player to complete two full lines across wins the second prize. The first player to daub all numbers on their ticket wins the Full House prize.
80 Ball Bingo
Another common type of bingo game with its own rules and method of how to play is 80 Ball bingo. Most bingo sites now offer this game as its popularity increases and provide a midway point for players who find that 90 ball can be a bit long or 75 ball is too short. Again the primary difference to the rules and how to play this bingo game type is based around the card used. As the name suggests 80 balls are used and the card differs as it is a grid of 4×4 squares – 16 squares in total.
Usually each column in 80-ball bingo card is colored
Column 1; Red -Represents numbers 1-20
Column 2; Yellow – Represents numbers 21 -40
Column 3; Blue – Represents numbers 41- 60
Column 4; Silver – Represents numbers 61 -80
Bingo sites or halls often vary the patterns which need to be completed in order to win the game. Traditionally they will offer a normal full house but often vary it and have a lot of fun using, horizontal, diagonal, vertical, BIG X or center square version and other patterns. As with other forms of bingo the person who manages to complete the pre-determined bingo pattern first wins.
The Bingo auto-daub featurePlayers who prefer purchasing a large number of Bingo cards/tickets generally prefer to rent an electronic Bingo table with auto-daubing, or playing online with the auto-daub feature turned on. Calling Bingo differs greatly in offline and online Bingo halls. Playing at a land-based Bingo hall requires the player to shout Bingo loudly over the crowd. A quiet, reserved person who says "Bingo!" too softly may not be heard, costing them the win.In an online Bingo room, players have the option of "automatically" calling bingo – meaning the software halts the game, announcing that the player has won – or shouting out Bingo in the chat room. This option can be toggled on/off, but automatic is generally preferred. When all winners for the Bingo game are declared, the Bingo game ends and players prepare for the next game. Prizes are awarded accordingly. Online bingo automatically deposits winnings into the player's account, where offline Bingo Halls usually provide a voucher to be redeemed at the counter before leaving.
Basic Online Bingo Guide For Beginners
Online Bingo is essentially the same as the traditional game and is not a difficult game to comprehend, so regardless of what your age or your skill you can play a game of online bingo without any qualms. The rules of a bingo game may differ from website to website, however, the main principle of the game remains the same.
In order to get started playing a game of online bingo, you will need to register with a bingo site first. Registering with a site takes a mere five minutes to do at most online sites. Typically, these websites will ask you to furnish information regarding your name, age, as well as the screen name that you wish to use when playing the game.
Also, a lot of these websites will give you a sign-up bonus. This bonus is free money that you can use to play the game bingo. You will need this money in order to purchase cards for bingo games and engage in any other games that the website offers. After purchasing your cards for a particular game, you just set back and wait for the game to begin. Generally, online bingo sites use a timer to count down the amount of time that you will have to wait before a game commences. Be aware that there are two main types of bingo games that are played online.
These two games are 75 ball bingo as well as 90 ball bingo. 75 balls bingo is an American based game, while 90 ball bingo is more centered around a UK audience. A virtual caller will choose numbers at random, and the auto tab feature will dab your numbers for you. Numbers are always called by the letter that they correspond with first, and then the number. For instance, a caller may recite the number B-11. If you have this number on one of your cards, the auto tab feature will immediately mark it off for you.
Online Bingo Registration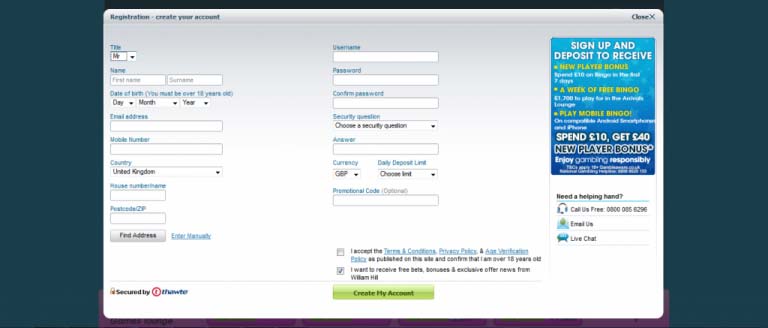 The information required to register on a bingo website is relatively basic and easy to complete – such as name, address, Date of birth (you will have to be over 18 to play online bingo). Once you have entered personal details you will be asked to choose a username, and then set a password for your account. You will use this to log in in the future to your account so we suggest using a username that you will remember and also that you will be seen as in the bingo rooms.
With regards to passwords, best practice suggests that you should never use the same password as you have for other things on the web, and it should include both upper and lower case letters and numeric values to make sure it is secure as possible. The Bingo Room will suggest strength during the registration of the password you try to use, so you will be able to see how yours hold up.
You can also select here the currency you wish to use and also a daily deposit limit should you wish to budget your deposit amounts. The currency is usually auto chosen depending on your location but it's worth to just double check that it's the one you want. You can also see here the confirmation of your deposit bonus from bingo.org and some other offering in the top right of the screen so there is no need to add in an additional promo code.
Then you must select that you agree to the T&C's and we suggest you keep the option which is pre-set (ticked) for receiving bonus and special offers emailed to your account so you don't miss out on any of their latest offers. The bingo room won't spam you or give this out to third parties, but it is worth looking to see if you want this option as we understand some people do not wish to receive such emails. Once all the data is filled in, just click "create my account" and you are almost done.
As we mentioned all registration and deposit process are relatively similar to the one we have given you here. So take a look through our bingo reviews and find the best room and bingo bonuses. Make sure to choose one with a good reputation, good user and expert reviews and secure /safe sites such as the ones found on bingo.org. Good luck everyone and have if you want to relax while you are learning how to play bingo, just read some of our best bingo jokes!