While Signing up at an online bingo room or site is very easy, we want to guide you through the process and some things to think about or look out for. The methods or steps vary from site to site but in general the process or details required are the same. We will try and take you through an example bingo sign up and also the deposit options.We have chosen William Hill Bingo to show you the example but as said it's pretty much the same for other bingo sites.
Best Bingo Rooms Online
Online Bingo Site – How to sign up
Firstly you need to find out which bingo site you wish to sign up for, and we suggest looking through the reviews here at bingo.org to find one that matches what you want from a bingo site. Look out for a good sign up bonus as well. William Hill has a great offer currently with a £10 deposit new player bonus where you will get £40 free to play with.
CLAIM YOUR BINGO BONUS
1) Click on the link above to open William Hill Bingo and claim the bonus. Once opened the page will display as follows, click the "Join Now" button at the top right hand side of the page.
ONLINE BINGO REGISTRATION
2) Once you have clicked "Join Now" you will be asked to fill in some basic user information on the registration screen as shown below.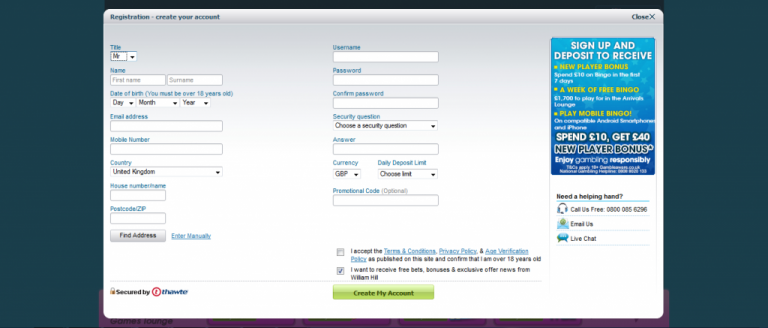 The information is relatively basic and easy to complete – such as name, address, Date of birth (you will have to be over 18 to play online bingo). William Hill use "Thawte" (–which is a globally recognised authority on the issuing of SSL certificates – this essentially means that William Hill bingo complies with their standards for secure data information via or on the internet) to secure user info so you can rest assured your personal information will be kept securely. Once you have entered personal details you will be asked to choose a username, and then set a password for your account. You will use this to log in in the future to your account so we suggest using a username that you will remember and also that you will be seen as in the bingo rooms. With regards to passwords, best practice suggests that you should never use the same password as you have for other things on the web, and it should include both upper and lower case letters and numeric values to make sure it is secure as possible. William Hill will suggest strength during the registration of the password you try to use, so you will be able to see how yours hold up. Never give out your password, even to anyone form a bingo rooms customer support team, they don't need it. For added security checks they also ask users to provide a security question with a memorable answer, such as favourite star, mother's maiden name, first pet or first car you owned.
You can also select here the currency you wish to use and also a daily deposit limit should you wish to budget your deposit amounts. The currency is usually auto chosen depending on your location but it's worth to just double check that it's the one you want.
You can also see here the confirmation of your deposit bonus from bingo.org and some other offering in the top right of the screen so there is no need to add in an additional promo code.
Then you must select that you agree to the T&C's and we suggest you keep the option which is pre-set (ticked) for receiving bonus and special offers emailed to your account so you don't miss out on any of their latest offers. William hill won't spam you or give this out to third parties, but it is worth looking to see if you want this option as we understand some people do not wish to receive such emails.
Once all the data is filled in, just click "create my account" and you are almost done.
You will also receive a welcome email from William Hill Bingo confirming your account details at this point.
DEPOSIT FUNDS TO YOUR BINGO ACCOUNT
3) The next step is to deposit funds into the account. To claim the great bonus it is only a £10 deposit so that is what we will start with. As you can see from the screenshot below William Hill have a vast number of payment methods – credit and debit card, E-Wallets such as Paypal bingo, EntroPay, Skrill, Neteller, Paysafecard and also bank transfer and western union among others. We generally suggest choosing either an e-wallet service or paying by credit/debit card as these are the most secure and easiest way to deposit fund and receive your winnings. If you want to read about payment methods for online bingo you can have a look at our guide.
Once you have made your deposit and claimed the bonus you can start playing! It really is that easy to sign up at an online bingo site.
PLAY BINGO
4) Now your bingo account is set up and deposits are made its time to play! You will be taken back to your home screen such as the image below shows; we have underlined the area where you can deposit for future reference and circled the area where the fun beings. The play now sections.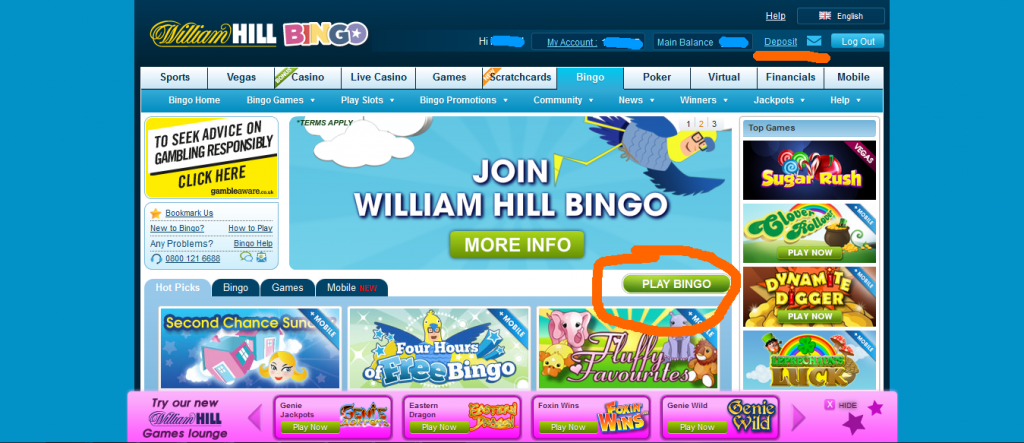 Once you have clicked on play bingo, William Hills Bingo games area will launch in a new window and an example is shown here below.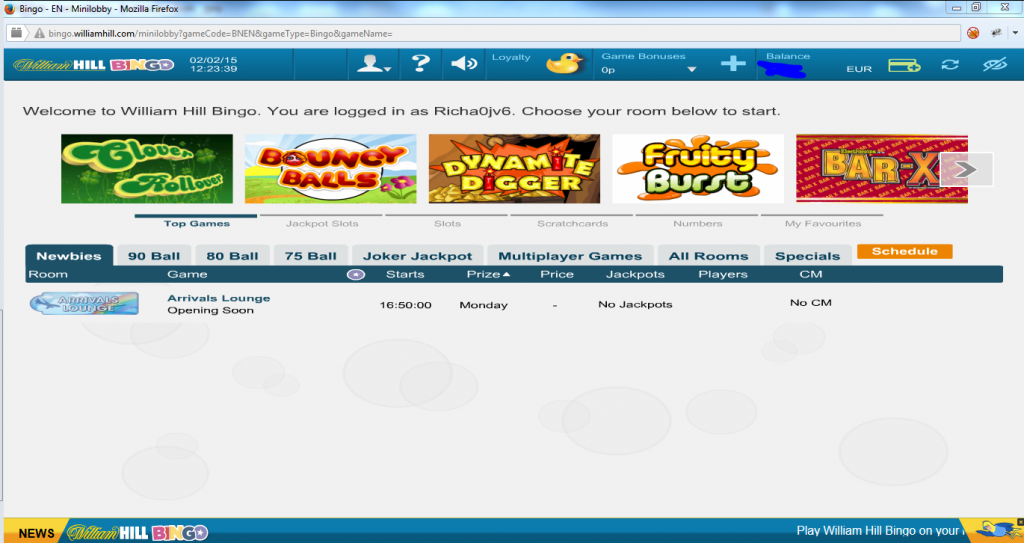 As you can see there is a huge variety of Bingo games, 90-ball, 80 and 75 ball along with fun jackpots and multiplayer games. You can also find out the full schedule of all games and places where you can bulk buy your bingo tickets/cards.
We hope you found this helpful; it really is so easy to sing up at an online bingo room that anyone can do it. As we mentioned all registration and deposit process are relatively similar to the one we have given you here. So take a look through our bingo reviews and find the best room and bingo bonuses. Make sure to choose one with a good reputation, good user and expert reviews and secure /safe sites such as the ones found on bingo.org.
Good luck everyone and have fun.