Betfair Bingo Introduction
Since it was founded in London in 2000, it has become the biggest betting platform in UK, and later in the world. It embraces still a huge success, since it claims to have over 4 million customers, from which 1.1 are active customers. Betfair claims to have 20 percent better odds than regular bookmakers. It also sports amazing Bingo offers.  Also, it charges a 5 percent commission on all winning bets and pots, but that can decrease down to 2 percent, depending on how much money the client won. Even though it started as only a betting site, now you can find bingo and many other games on their main website.
It also sports amazing Bingo offers.  Also, it charges a 5 percent commission on all winning bets and pots, but that can decrease down to 2 percent, depending on how much money the client won. Even though it started as only a betting site, now you can find bingo and many other games on their main website.
Games and Bonuses on Betfair Bingo
If you are an online gambler, you came to the right place. Betfair has a variety of games, and naturally, a variety of offers and promotions. In the Bingo section, to all new players, this operator gives welcome bonus of £25 with only £5 deposited. Bonuses and promotions are not only reserved for Bingo section. In Casino you can get 200% welcome Bonus up to £400 and for Poker a fantastic Welcome pack which consists of 100 Twister Tokens and £15 in bonuses.
Let`s not forget the Betting section is the world`s most active. It has plenty of bonuses so you better check it out. Betfair Bingo is not available only on the PC, but also on mobile devices and tablets. You can take your iPad or Android powered smartphone and play whenever and wherever you want to. Even if you already have an established account, you can switch to the mobile environment and receive your bonus in an instant.
Betfair is one of the safest online gambling websites in the world. Even though they collect plenty of personal information at registering, they make sure to keep it private, and they use the latest security technologies, constantly researching new security methods. Client security is one of their top priorities. The two-step authentication method protects your account from being hacked. The way it works is that after you enter your username and password, you have to input a one-time code which is sent to your phone via SMS, or which is displayed on your phone when you open the application.
Betfair Bingo Promotions
Betfair Bingo features rooms tailored to any user level. Newcomers can access a series of rooms that are specially designed with special line-up of prizes and games. Bingo players who want some side action besides the bingo games can check out the scratch cards and slots, more than 120 games of this kind being available.
Please note bonus T&C: 1. New customer only | 2. Deposit a Min of £5, Min stake £5, Max bonus £25 (£15 Bingo Bonus & £10 Bingo Slots Bonus) | 3. Bonus credited within 48hrs | 4. Bonus available for one calendar month from credited in your account | 5. X4 wagering requirements on any Bingo games | 6. Some games contribute less to wagering requirements, please see full T&C's. *Not available to customers using Moneybookers/Skrill or Neteller as a payment method
Loyalty programEvery time you play bingo, poker or any other game, you earn points and you can turn them into amazing prizes. There are many ranks and the highest rank is the V.I.P one. It has pretty awesome bonuses, and is a great reward for the most loyal players.
Bingo Games on Betfair
90-ball bingo: This is known as the classic bingo game and, as you might already think, it features the 1 to 90 numbers on the screen. Each ticket features three lines, each one containing five numbers. There are various prizes that you can win if you manage to secure a line, two of them or all three during a game of bingo. There are other games that use the 90-ball system but come with different rules:
Speed Bingo: The name of the game gives you an exact idea about its playing scheme. The rules are the same, although the speed is much faster than usually. Such a game will only last about a minute, so you need to be prepared and watch out for all the numbers on your card.
Deal or No Deal Bingo: Apparently, this is a game like any other bingo game, where you will win certain amounts of money if you win with one line or two. However, if you have a full house, you will receive a mystery box with an offer from the banker, as it happens in the real game of Deal or No Deal. You can choose between the two options and you can risk or remain in the safe zone.
Roll On Bingo: All of us were frustrated at least once during our bingo careers when another player just beat us to a full house, after we were almost there on closing the game. This game has a unique twist that lets the game continue past the first full house, so that other players can reach this stage, too.
Lucky Numbers Bingo: This game requires you to select three lucky numbers and then match from one to all of them on the lines or full houses that you have won. If you do so, you will be eligible for the Lucky Numbers Jackpot.
75-ball bingo: This variant of bingo uses only 75 numbers and the cards feature five columns with five numbers each. There are some variations here, too, such as Patter Bingo that has a certain pattern on the card, requiring you to fill in the pattern to win. The UK 75-ball bingo game features five prizes for individual lines and a Coverall prize if you have a full card.
Betfair Software
Betfair has Software developers all over the world to make sure their websites are well-maintained. Their Bingo software is constantly updated so that it remains easy to use and bug-free. You do not have to download any application or to get bugged by any annoying advertisement while you play your favorite game due to their no-ads policy.
Betfair Mobile
Since everyone owns a smartphone or an iPhone these days, naturally Betfair has tried to keep up, and made a website that is compatible with any smartphone. But that`s not all! You can now download an application on your phone, so you can play and see the latest news in real time.The application is available in 4 versions: Android, iPhone, iPad and Blackberry. You can find it on their website. Hurry up and try it.
Payment Methods on Betfair
The payment methods depend on your location. The website accepts most of the deposit options like: PayPal, Visa, Maestro, Western Union, MasterCard, and many others. In UK, the most popular method is a debit card such as Maestro or Delta. In Ireland, the most used funding method is by Visa. Australian payment methods are: Visa, MasterCard, Poli, BPay, Bank Transfer, Nab and Credit Union Transfer. At Betfair we operate a closed loop policy which enforces the withdrawal of funds back to their source. You will be required to level off any deposits made with the same amount of withdrawals for certain payment methods (Cards, Moneybookers, Neteller, Paypal ) before you can withdraw any excess funds back via another payment source.
Example:
You made £70 (€70) worth of deposits from your Visa Delta card and £50 (€50) worth of deposits from Paypal. Your net deposit on your Visa Delta is £70 (€70) and on PayPal £50 (€50). After several activities on the site your 'Available to Withdraw' balance is £500 and you wish to withdraw £150 (€150). Your preferred withdrawing method is PayPal, but before you are able to withdraw back to PayPal over and above £50 (€50) you will need to balance off the net deposits from your Visa Delta card.
Therefore you need to balance first your Visa Delta card by withdrawing £70 (€70) back to the card. Afterwards you can withdraw £80 (€80) back to PayPal. If, in the above example, your preferred withdrawal method is your bank account you will first need to withdraw £70 (€70) back to Visa Delta and £50 (€50) back to PayPal. After that all your net deposits are balanced and you are free to withdraw by bank transfer (or any other payment method).
Betfair Customer Support
The website has a very good customer support system. Under the "Contact us" section on the website you can find phone numbers for each country the website activates in. You can also search for online help under the "Help" section.
Registration Process for Betfair Bingo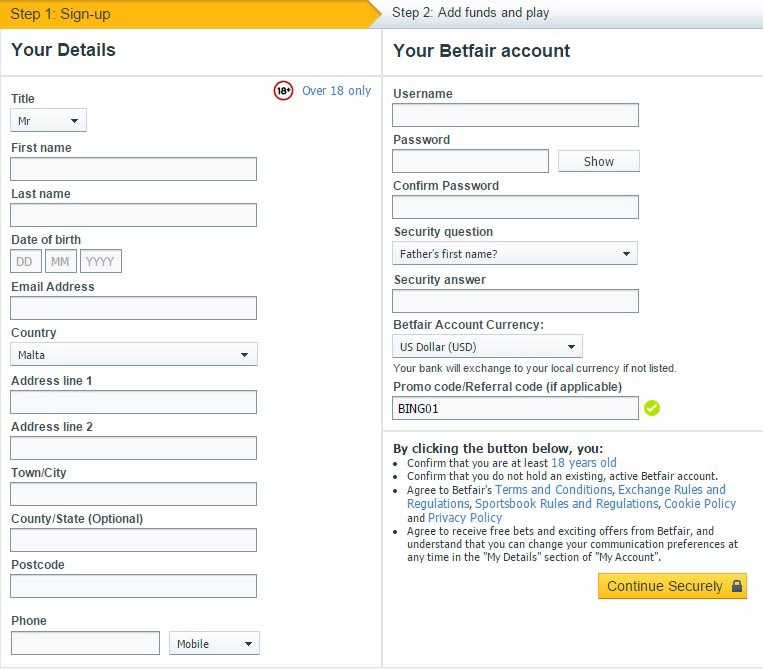 The registration process is very easy: it is a one-step registration process and there are some fields that are optional to fill. The website asks for personal information due to legal requirements, but the information will never be used for anything else. NOTE: You have to be 18 years + to register on their website.