The Best Bingo Sites in the World
At Bingo.org we are doing our best to offer awesome gaming options across the globe. To cover all the bases and provide awesome bingo recommendations, player guides and site reviews for the countries where bingo is most played and exported from!
Did you know you can use our site in English, Dutch, Spanish, Italian, and Portuguese and find out about the place sites to play Bingo with that are registered and licensed in the UK, US, Australia, Canada and New Zealand?
Bingo is a rich and diverse game that has at one point or another been all over the world. Whilst the Brits lay claim that the numbers game is quintessentially theirs, its roots lie much deeper and can be traced back to Italy, where it was played as Tombola in the 1700s.
UK Bingo: Never Been so Popular!
They may not have invented the game, but they sure as hell produce a lot of the top bingo sites and are proud of their Bingo offerings as they are well renowned as some of the best sites to play at. Dishing out bountiful bonuses, a great range of different and innovative bingo options and a high level of regulation and player protection thanks for strict licensing conditions of the UK Gambling Commission.
Due to the fact that so many people choose to play British Bingo, the sites have huge purchasing power and can afford to give out all kinds of bonuses for their players, which means they'll get the chance to play awesome Bingo games for less.
The UK and other whitelisted gambling jurisdictions are considered the benchmark for safety and security in online gambling, all sites must offer protections such as problem gambling awareness and support, account limits, age verification and fair advertising. It's common to find 90, 80, 75 and 30 ball bingo at British sites along with other more innovative variants such as Deal or No Deal bingo, the bingo sites game size has grown with the demand for more bingo. Find out all about the best UK Bingo sites now.
US Bingo: a Modern Twist
Surprisingly, the US actually has a bigger claim to modern bingo as we know it today than the British, but their gambling laws have somewhat hampered their growth in the online bingo sites market.
The USA created one of the worlds favourite and most played varieties of Bingo, 75 ball. America is the country where Bingo was copyrighted in the 1920s after touring carnivals and fairs for many years as a popular game. If you are a US player looking for the best bingo sites and biggest bonuses then our top bingo sites guide for the US can help you. As well as our ultimate, bingo guides and game rules.
Canada Bingo: a Wide Selection of Games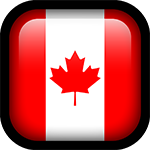 Bingo is all the range in Canada, as a popular past-time for many, there's a great selection of Bingo sites that compete well in the global and Canadian market. Online Bingo certainly has an appeal for Canadian players who were overjoyed when they no longer need to wrap up and make the freezing journey to a real bingo hall to play a game.
Our top-rated Canadian site offers 75, 80 and 90 ball bingo variants, great bonuses and we only recommend them if they are safe, trusted and licensed places to play in line with Canadian gambling laws.  Find out more about online bingo Canada.
Australia Bingo: a National Game
Australians were a little slow on the Bingo uptake and it only shot to popularity down under in the 1970s, but there is no stopping its popularity now, they even had a National Bingo Night! Bingo is colloquially known as 'Housie' in Australia.
Like in the UK, 90 Ball Bingo is the favoured variant in Australia, but you'll find sites offering 30, 75, 80 and 90 Ball Bingo. The Bingo.org experts have some top-class recommendations of where to play if you are in Australian territory so you can get the best bonuses and range of bingo games. You can check out our bingo site reviews to find out more and get the full, in-depth outlook on Bingo in Australia.
New Zealand Bingo: Quizzes and Chat Games
Just as with Bingo in Australia, New Zealand residents love to call the game 'Housie' and Bingo is one of the country's most popular games! 90 Ball Bingo is this nation's preferred playing NZ style, giving players the time to kick back and enjoy a more relaxed game with a slower pace.
Bingo sites that are aimed at NZ player's great place to play and often offer way more than just Bingo. You'll be able to play Slots, Scratch cards and other casino games. NZ bingo sites tend to include a range of bingo options; different variants, themes, bingo quizzes and chat games which is a great indication of how well the NZ market is developed. You'll find bonus giveaways, prize draws and jackpots to engage players, which round off NZ sites perfectly.
The legal situation in NZ states that bingo sites may not be hosted within NZ's borders, but there are no restrictions on citizens engaging with online gambling.  This means the sites that NZ residents can use are international sites to play bingo and other online games. This is fully legal and opens players to better deals from big sites that operate globally and offer NZD transactions. Check out our top-rated Bingo NZ sites here.
Getting the Best Bingo Wherever You Are
Playing Bingo has become more flexible to our schedules and locations with the advent of the internet and mobile gaming. When it comes to playing from different countries, whether you can join and play at a site depends on their licensing agreements and where the bingo sites are legally allowed to operate and advertise to.
There are more than 10 million people playing bingo online everywhere in the world, but the majority of players who can do so legally are either in or play from, allowed jurisdictions of the countries we cover in our bingo gaming guides. You should always check if you are legally allowed to gamble online before you play. In some countries, like the USA, where Federal law rules, this can be a more complex task so check out our guides first and do your research beforehand.