Review Date:
27. September 2018
We don't have any deal with this Online Casino. please visit our List of Regulated operators
Bingo For Money Introduction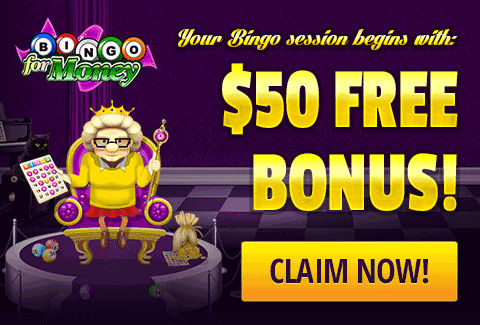 Bingo For Money offers an authentic bingo experience by using the most advanced software currently available in the industry. When you play on Bingo for Money, you have 300 different patterns and games available for players of all levels. The simple design of the games on Bingo for Money is coupled with first class graphics and brilliant colors that make the games easy to play. The chat feature allows players to talk with one another during gameplays, while active in the bingo rooms.
One of the internet's best online bingo websites just got a whole lot better! Bingo For Money has unveiled a brand new platform, completely redesigned from head to toe with the latest technology. The site features brand new simple to use navigation making it easy for players to get around. They have also created their very own bingo social network in which members can now communicate with other players from around the world!
A main concept of the new Bingo For Money site is the focus they've put on creating a customizable social profile. Players can now upload their very own pictures, write an about section showcasing their interests and even leave status updates for their fellow players to see. This new addition gives players a more personal touch and creates a more vibrant online bingo experience. The new platform allows players to keep track of their account activity and also makes it easier to find out about upcoming promotions and tournaments!
The player profiles aren't the only big change at Bingo For Money. The site also re-did their graphical interface, making it easier to navigate, browse and play the plethora of games. Colors are more enhanced with top-notch graphics that make the site sparkle and shine. Bingo For Money is now also responsive, meaning that you can play on both tablets and smartphones.
Games and Bonus on Bingo For Money
The new online experience allows players to rate and review any of the games on the site. Members' feedback is an integral part of creating a better user experience and Bingo For Money values their members' opinions. Players can now stay informed about which games are the best through a 5-star rating system as well as written reviews that are left by other members.
Online bingo is a lot more than just playing games online. The interaction between the players and the community feel is what draws players in from around the world. The new interface at Bingo For Money creates a more social experience for all members. Each bingo room has a friendly Chat Moderator that is there to answer questions. They create a pleasant and enjoyable atmosphere and are known for hosting special games and giving out bonuses. Players on the site can also take advantage of several new social networking features such as:
Interact directly with other Bingo For Money members
Shares and Likes
Transfer funds and give gifts
All of these new features create a very online gaming experience. Players visit Bingo For Money from around the world and it's no wonder why. With constant innovation and a knack for staying a step ahead of the curve, Bingo For Money is one of best online bingo sites out there today. Bingo For Money offers you a genuine gambling experience! You can play with 24 cards during each game and you can employ the auto-daub feature that will make sure you never miss a number on your cards. Take advantage of the pre- buy feature and you will always have the cards ready for the games you want to play.
A Perfect 75-Ball Bingo Experience
Bingo For Money strives to create a bingo experience that reflects every aspect of a local bingo hall. The balls used in the 75-ball game are color coded and almost identical to those used in land based bingo halls. As soon you as you win a game, your money will be instantly credited to your account, this way if you were to lose your connection your winnings will be available the next time you sign in. You never have to wait more than a few minutes to play your next game at Bingo For Money. Games are played 24 hours a day – 7 days a week! Apart from bingo tournaments, Bingo for Money provides a variety of games, ranging from video poker, slot games, pull tabs to chat games – all available at the touch of a mouse click.
Payment Methods & Customer Support
Bingo For Money enables fast payouts so you can receive your winnings as soon as possible. The customer support staff is available 24/7 and will process your request within minutes. You also have the option to contact the support team via LiveChat for instant response to your inquiries.
To learn more about the site just visit bingoformoney where you can sign up! It's a quick and easy process and you'll also be rewarded with a $25 bonus just for completing the form! BingoForMoney offers members a special online bingo experience. Players can benefit from a huge selection of games, exciting monthly promotions, generous bonuses and helpful customer