Review Date:
27. September 2018
We don't have any deal with this Online Casino. please visit our List of Regulated operators
Bingo Canada: One of the Best for Bonuses
Welcome to the Bingo.org Bingo Canada Review, here we'll give you the lowdown on everything you need to know about Bingo Canada before you start playing, from bonuses to security and software range. The age-old game of bingo is treasured in several countries across the globe. It's certainly in no need of any introductions. Everyone knows the drill; you buy a number card, or two, three, or as many as you'd like, cross out the called-out numbers on your card(s), and try and clear an entire card (or in Bingo terms, try and 'blackout' your card). If you manage to do so, just call (or click) Bingo! It's fun, exhilarating, highly stimulating stuff and there's plenty of vast jackpot prizes available!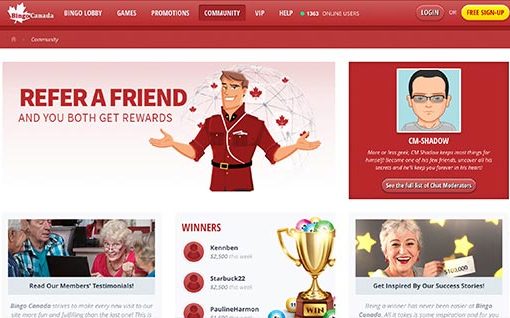 So what is it that bingocanada.com brings to the table? This Bingo Canada review can reveal that not only does Bingo Canada provide a variety of bingo rooms, available at any time of day – or night for that matter – but it provides players with an array of video slots, video poker, even Keno!
Bingo Canada is not a download casino, as all of its games are playable as instant-play (flash) version. Its games are also playable on most mobile devices, whether Smartphone or Tablet operating on iOS, Android or Windows Mobile operating systems. The base currency accepted at Bingo Canada is the American Dollar, although our Bingo Canada reviewers combed the T&Cs finding that they do state that an alternative currency may be agreed between Bingo Canada and a depositing player. However, the software used by Bingo Canada is available in English language only, so you do have to be English-speaking to understand what's going on. The latest overall RTP rating in relation to Bingo Canada was reported at a considerable 97%, which is generous to say the least. So, let's see what this Bingo site has to offer in a little more detail in this full length Bingo Canada review.
Not Only Bingo Games
As we said earlier, Bingo Canada, contrary to what the name suggests, is not only about online Bingo. Slots enthusiast are also well catered for, with no less than 86 different Video Slots games to choose from, including some very popular numbers such as Lucky 7's, Black & White Gold, Wild Cherry, Double Scoop Delight, Lady Godiva and Mighty Kong! In fact, there's something for any Slot enthusiast at Bingo Canada, whether he/she is after classic 3-reels or modern 5-reels with advanced graphics and audio. Bingo Canada's games portfolio stretches even further. Fancy a game of Video Poker? There are 10 varieties to choose from, and the most sought-after variants are all there, including Deuces Wild, Joker Poker, Jacks or Better and Double Bonus Poker. Keno is also provided by Bingo Canada, albeit in a single variant of the game, but there are over 25 different types of Pull Tabs for players to choose from too, so if that's what floats your boat, Bingo Canada's got you covered too. That's not a bad selection of games to choose from by any stretch. Bingo Canada's an online Bingo hall with extras!
Bingo Canada VIP Benefits & Promotions
Bingo Canada runs an all-inclusive VIP programme by which players can earn Bingo Bucks, which reward loyal players very generously. Playing and depositing at Bingo Canada will automatically enroll players into Bingo Canada's VIP programme, which consists of 11 VIP-levels ranging from Basic to Master, and which are in turn attained through earning 'stars' from playing. As you earn more stars Bingo Canada will reward players by also giving you higher; VIP levels, cash-out limits, payout frequency, payout speed, a larger Bingo Bucks entitlement and bigger and better bonuses and promotions, along with a whole host more!
If there's one area in which Bingo Canada's review scores soar above the rest, it's in the bonuses and promotions category! Let's start with the welcome bonus on offer. Bingo Canada offers new players a free, $25 no-deposit bonus, meaning that you can start playing online Bingo upon registration, even before having made your first deposit!Secondly, Bingo Canada offers all new players an INCREDIBLE 2016% match bonus over their first three deposits, offering 500% on players' first deposit, 700% on players' second deposit and 816% on players' third deposit. Bingo Canada also offers deposit bonuses on players' every deposit from the fourth onwards, depending on which day of the week they deposit and the deposit amount. These deposit bonuses are pre-set. All in all, these deposit bonuses vary from a minimum of 250% to a maximum of a whopping 800%! You'll also find cash-back bonuses on offer at Bingo Canada. Deposit $500 and get 50% back in cash or deposit $100 and get 25% cash back!There's an array of additional bonuses and promotions available to everyone at Bingo Canada, including daily bonuses and promotions, special timed offers, free chip giveaways, raffles, birthday bonuses, chat game bonuses, happy hour bonuses, welcome back bonuses, and much, much more!Exclusive Bingo Canada Review Bonus: If you sign up as a Bingo.org Bingo Canada review reader, you will get some exclusive treatment from Bingo Canada; your first deposit bonus match will rise from 500% to 600% and your free, no-deposit bonus will rise from $25 to $55! The best thing about Bingo Canada's great bonuses is the even greater wagering requirements, which are as low as 3x the bonus and deposit amounts combined. The Bingo Canada expert reviewers said, "That's more than fair; it's fantastic!"Not all games contribute to the same degree towards satisfying the wagering requirements to bonuses,a great  however. As expected, Bingo wagers contribute at a rate of 100% towards the wagering requirements. Pull tabs contribute at 50%, while the rest of the games on offer contribute at a rate of 12%. The contribution rate for free bonuses is of 5%.
Bingo Canada Review: Software and Graphics
At Bingo Canada there's a great selection of online bingo games to take a stab at. More specifically, there are six Bingo rooms in all, offering the beloved game of online bingo to players of all stripes from high-rollers looking to pay a dollar per card, to those who just want to have a little stake in the game to keep things interesting, but are only willing to risk 5c at a time. There's a Quarter Room, a Crazy Room; there's even a Bingo Room licensed by the popular TV show Desperate Housewives, at which players may purchase cards for as little as 20c a pop and win relatively large amounts upon blacking out their card. The Bingo Canada reviewers found some of the Bingo games available at Bingo Canada come with really generous progressive jackpots too, so the big carrot is always there for players to chase or aspire towards.
Bingo Canada uses three big software names in the world of i-gaming. These are Parlay, Betsoft and Pragmatic Play. Let's take a brief look at each. Parlay Entertainment has managed to rise to the top of the i-gaming software pyramid, establishing a name that's now synonymous with online Bingo while collecting a few awards on the way. Parlay is known for offering quality, ingenuity and flexibility, providing user-friendly software, both in terms of their Bingo games as well as the important supplementary features such as chats and side games. Parlay Entertainment now supplies over 100 online Bingo sites with both American 75-ball Bingo as well as British 90-ball Bingo games, which makes it one of the largest software providers for online Bingo in the industry.
Betsoft and Pragmatic Play are responsible for Bingo Canada's games other than Bingo. Both are mostly known for their provision of Slots, but while Pragmatic Play is known for its vast selection of 5-reel and 3-reel classic Slots, Betsoft is primarily known for its 3D technology, bringing the best in online 3D Slots, such as the Slotfather, to the business.
Bingo Canada Review: Payment Methods
Banking is made particularly simple at Bingo Canada according to our reviewers, especially because all the information is made freely available on Bingo Canada's official site, and because the methods accepted are among the most popular in the online gaming industry. Deposits may be affected using:
Visa and MasterCard credit, debit and pre-paid cards
Money Transfer Services
Skrill Moneybookers, Neteller and EcoPayz
When using any of the above deposit methods, bar Visa and MasterCard, additional deposit bonuses are also awarded to the player. Using Money Transfers garners the player an additional 20% deposit bonus while using any of the e-wallets grants the player an additional 15% deposit bonus. The minimum deposit amount imposed is of $25 and all deposits must be approved before a player can play for real money.
Bingo Canada Reviewer Tip: Withdrawals may not be made through Visa and MasterCard bank cards; these payment methods are only allowed for deposits. All other deposit methods listed above are also allowed as withdrawal methods, alongside Bankwire Transfers and mailed Cheques. The minimum withdrawal amount imposed by Bingo Canada depends on the player's choice of cash-out method. When withdrawing using any e-wallet, the minimum cash-out amount is of $50. When using Money Transfers, it's of $100, when using Cheques, it's of $300 and when using Bankwire Transfers, it's of $500. Transfer times vary considerably according to the player's choice of withdrawal method. When using an e-wallet, players should allow between 24hours and 3 business days for the cashed-out funds to appear in their personal bank accounts. When using a mailed cheque however, the funds may take up to 12 business days to arrive.
Bingo Canada Customer Support
According to our Bingo Canada Reviewers, Bingo Canada earns a five-star rating as far as client support is concerned. Offering direct client support through multiple avenues, including a 24-hour telephone helpline service, an e-mail support service through which queries and complaints are answered swiftly, and a live chat platform through which players may get in contact with helpful, professional support staff 24 hours a day, 7 days a week. Bingo Canada also lists a comprehensive list of FAQs on its official site for players to get acquainted with the answers to the most frequently asked questions.
Security Level on Bingo Canada
Bingo Canada is owned and operated by Digital Entertainment Services Limited, which in turn operates out of its headquarters in Port Vila, Vanuatu. They are fully licensed to operate its online gaming site by the government of Curacao, holding license No.  CEG-IP/2014-1511. Players from the United States of America are more than welcome to try their luck at Bingo Canada. However, Bingo Canada imposes country restrictions on players whose IP address originates from the following countries: the United Kingdom, Costa Rica, Denmark, Ukraine, Romania, Russia, Bulgaria and Israel.
Our Bingo Canada review found that Bingo Canada ticks all of the safety and security boxes to put any aspiring player's mind at rest. First and foremost, Bingo Canada carries four seals pertaining to some of the most trusted security firms on the web. These are Norton, McAfee, GLI and PCI. This attests to Bingo Canada's use of the latest in SSL Encryption technology. The latter, PCI, stands for Payment Card Industry and refers to Bingo Canada's compliance with the Payment Card Industry's Data Security Standards (DSS). This, in turn, means that all financial transaction involving Bingo Canada and all of its registered players are processed in a secure environment.
Bingo Canada uses RNG technology to ensure the fairness of their bingo games and this is checked by GLI. This is a requirement imposed upon all operators licensed by the Curacao Gaming Commission. It ensures that there is no dabbling on behalf of the operator in terms of the outcome of any of their virtual games. In addition to all of the above security measures, Bingo Canada also abides by a solid Privacy Policy, as well as a policy for Responsible Gaming. Find out more about SSL technology, staying safe online and responsible gambling from the Bingo Canada expert reviewers here.
Bingo Canada Review: Conclusions
Our expert Bingo Canada reviewers cannot but recommend Bingo Canada to our readers. It's as safe a site as they come, open to the US market, boasts a decent range of games other than bingo, sports some great graphics and game immersion, accepts multiple banking options, offers some mind-blowing bonuses and promotions, provides great client support, and is fully licensed and secured by some of the best names in the industry. Our Bingo Canada review recommends that you sign up and give Bingo Canada a bash with no deposit bonus, why not! Bingo Canada is also a great destination for those who want to have a few practice runs at any of their games before they actually commit to playing with real money. All of the games on offer are playable in practice mode, and with the free bonus on offer upon registration, players can also practice using Bingo Bucks!