One of the most popular games amongst bingo players is online slots, and most bingo rooms offer slots games as both a supplement to their bingo product, allowing players to game while they wait for bingo games to start or to play slots in play while bingo numbers are being called. Many sites offer slots as a primary game for their players now with great success. The development of slots play online has come on leaps and bounds in recent years and its popularity has only continued to grow – they are great fun, and usually have fantastic game play and graphics and of course lots of options to win and fantastic progressive jackpots.
If you love hitting the jackpot, then you've probably heard of the Holy Grail for players everywhere – the Progressive Jackpot. Couple this concept with a game which emits warmth into the most jaded player's heart and you're right on the money! We don't only strive to give players the best progressive jackpot where it literally pays to play more, but we endeavor to go further into cyber space than anyone else by offering the freshest and finest gaming experiences on the web.
The History of Slot Games
Having surpassed most other games to become a pop culture icon, you don't have to be a hardened player to have heard of the humble slot machine. In fact, it is so well-known that there are several different terms which people of different nationalities use to describe it such as: fruit machine (British English) which makes a contextual reference to some of the first slot machines where the player would need three or more matching fruit symbols to win, puggy (Scottish English slang), and pokies (Australian English and New Zealand English).
Although there is a vast divergence in the names used to describe slot machines, it is widely corroborated by aficionados everywhere that the granddaddy of the modern machine was born in Brooklyn, New York in 1891.
Based on poker, this particular gambling machine created by Sittman and Pitt consisted of five drums which had a total of 50 card faces and after players inserted the mandatory nickel and pulled down on a lever, they would wait till the drums stopped spinning and hopefully give them a good poker hand. At this point in time, payouts didn't even exist so winners would be rewarded with drinks and cigars based on how good their win was.
How to Play Slots
Although many casinos now have reels which are button operated, the original aforementioned slot machines were played by one pulling down on a side lever
 which earned the machine the tongue-in-cheek moniker of the "one-armed bandit" as it had a habit of "robbing" players of all their money deftly. Today, this term has been extended to the player himself with players who strategically operate a number of machines at once being labelled "multi-armed bandits".
The principle behind the slot machine, like the game itself, is a simple one. Slot machines are embedded with currency detectors which validate the money inserted to play (much like you would find in a drinks machine), the amount one gets in winnings depends on the patterns of symbols which come up when the reels stop turning. Traditionally, the more uniform horizontal or vertical patterns you got, the bigger the payout, however, modern technology and particularly online casinos have made winning easier by introducing a bevy of variants on the traditional patterns. It is truly not for nothing that slot machines are the most loved games and constitute roughly 70 percent of the average US casino's income.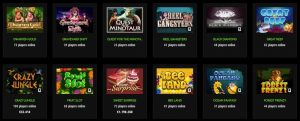 Since online casinos are not brick and mortar casinos, players will obviously be partaking of digital or video slots machines which don't have moving parts as such, but graphical representations of symbols instead. It is thanks to this flexibility in design that many video slot machines come with further interactive elements such as advanced bonus games and graphics. Furthermore, because there are no mechanical restrictions, the amount of reels offered are usually five instead of the standard three which leads to a wealth of possibilities. Unlike traditional mechanical machines, video slot machines are designed for players to play multiple lines in any patterns designed and integrated by the manufacturer. This could mean that winning lines can be from side-to-side, corner-to-corner, or even from the middle of the game face upwards.
What is a Progressive Jackpot?
A progressive jackpot is a jackpot which is usually linked to a gaming machine where the total amount to be won increases by a small amount each game. Obviously, the more players you have, the bigger the payout as they will all be contributing to making the jackpot sum larger. Interestingly, while the linking of machines usually happens at the same location, casinos in New Jersey, Nevada and South Dakota are now offering multi-state progressive jackpots which obviously have huge payouts.
Powered by Vista Gaming which has been an online gaming platform since 1996, players can look forward to progressive jackpot games such as: Fairy Nights, Greek Myths and Winds of Arabia. In keeping with the slot games tradition, all progressive jackpot games come in vibrant colours and interesting themes, so whether you fancy an afternoon of ethereal interaction or you were a history buff who knew Greek myths and legends inside out at school, there truly is something for everyone.
Slots Security
In order to ensure that players are safeguarded at all times, each player is given a unique identification number and system-assigned Player ID access code.
With us worrying about your credit card details becomes a thing of the past as all credit card details which are inputted for the purpose of registration are submitted to heavily encrypted pages which even the most seasoned hacker would find impossible to bypass. If all that wasn't enough, in order to ensure further safety, the complete player register is stored on a separate computer.
Unlike some other online casinos, complete credit card details are not stored which means that players have to fill in part of their account digits every time they deposit and because we truly treat every player like an individual worthy of our time and attention, we register each player's IP address and looks closely at sudden changes in patterns of player behaviour just to ensure that the player membership number and access-code have not been compromised. That said, with our state-of-the-art security system, the damage which an unwanted guest can do is merely limited to using the access-code for playing. Ultimately, access-codes do not have the ability to reveal credit card details or other sensitive information.
Payment Methods for Slots
When it comes to payment methods, no one can say that CyberBingo haven't gone the extra mile and in fact, players are offered the crème de la crème of big banking names such as: Visa, MasterCard, American Express, Skrill and Neteller. It truly doesn't get better than this!
Slots Online Common Bonuses
When it comes to bonuses, we are anything but common. Although many online casinos only care about luring in new customers, we want everyone to feel at home and come back time and time again. It is with this in mind that we have come up with what many consider to be some of the best, if not the best welcome packages in the business. Some of the popular things we offer are bonuses which are equivalent to the amount you deposit – so for example if you deposit $500 we will give you a 200% bonus. However, it is important to check your online casino daily as deals and offers literally change every day and are also day specific which means that what you can get on a Monday isn't necessarily the same as what you'll enjoy on a Friday and while it is always important to read the fine print, we are very proud to say that all our bonuses are offered to all our players 24/7.
With to die for bonuses and a flurry of different themes, we give a new twist to the already much-adored slot game. With prizes won every minute and an opportunity to win big however little you play, you'd be a fool not to take part in our Progressive Jackpot Slot Games.
Read more about Roulette   Read more about BlackJack   Read more about Keno