If you had to ask the ordinary man in the street about what comes to mind when someone mentions online casinos and casinos in general, his first response would undoubtedly include roulette, blackjack and poker. So synonymous are these games with the casino image, that you can barely see a sign or an advertisement for a casino without the image of roulette wheel sticking out from somewhere or other. At bingo.org many of our visitors started to request reviews of sites offering Roulette, so here you will find an in-depth guide to Roulette, how to play, history of the games origin, reviews of the best places to play roulette online, strategy and some free roulette game play.
How to Play Roulette Online
One of the reasons for roulette's popularity is probably the fact that it involves very little strategy. The colours used in the ubiquitous roulette wheel are black and red for both American and European Roulette with the exception of the aforementioned zero (European Roulette) or double zero (American Roulette) which in both cases is green. The wheel itself is composed of pockets which range from zero or double zero to thirty-six and one places bets on single numbers, groups of numbers, individual colours or even odd or even numbers accordingly and waits for the croupier to spin the wheel and drop a white ball which is the device which will determine the winner.
The player will know whether he has won or lost when the ball falls into a particular pocket. By sticking to the table minimum and placing outside bets only, for example betting on just red or just black for each spin, you will be increasing your chances of winning as this type of outside bet pays one to one and covers almost half of the possible combinations. Obviously, your chances of winning are greatly decreased if you choose to bet on just one number.
Simple yet effective, the Martingale strategy is widely considered to be the simplest yet most popular strategy amongst roulette players old and new. The Martingale system works as follows – as long as you are winning, restrict yourself to a one unit stake, however, every time you lose, double your stake to win back your losses and maintain the one unit profit. The best thing to do if you are going to employ this strategy is a start small – this method truly is an example of the age-old adage which says that patience pays!
The History of Roulette
Taken from the French word for little wheel, this much-loved casino staple was born in its present form in the 18th century and probably owes its beginnings to Blaise Pascal's perpetual motion machine.
Played extensively throughout Europe for a number of years, the red and black numbered wheel eventually made its way to the United States in the 19th century, however, its aesthetic appearance did not remain true to the original and this has led to there being two main branches of roulette: "European Roulette" and "American Roulette".
Difference Between American and European Roulette
While American and European Roulette have, exactly the same rules, American Roulette does have an extra green coloured pocket in its wheel which has double zeros. This format of wheel greatly benefits casinos because players tend to lose a larger sum of money at a faster pace, however, despite this fact, it has remained quite popular amongst US people and is still offered alongside the European version by many online casinos. In fact, in our efforts to make sure that all customers are catered for, at Bingo.org you will find both offered.
Online Live Roulette Game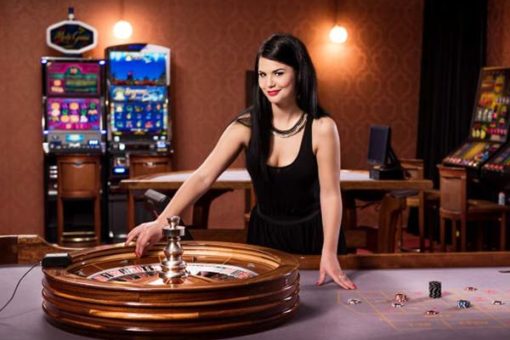 Traditionally online roulette has been played via game software that virtually reconstructs the game in its entirety, identical to that of that played in brick and mortar casinos however virtual graphics and random numbers are generated by software which the player views on their computer or mobile device. Online casinos will then create their own feel and graphics and gameplay of roulette to differentiate their game from the others on offer.
However in the last year or two the popularity of online live roulette and other casino games has grown significantly. Live online roulette is, as the name suggests, a physical / real roulette table and dealer who spin the wheel and ball in real time and in front of a camera, the action is streamed live from a video studio to the player via the internet in real time.
It's a fantastic innovation allowing a much more real, exciting and close to action feel for players and the gameplay is there for almost identical to that of a live casino. Many players who prefer the live environment enjoy this version of online roulette to the traditional graphical game as it is more immersive and replicates the game in a better way (others however do prefer the graphical elements of virtual online roulette and both are great options).
Live roulette allows players to chat directly to the dealers who communicate back via the video stream. It's a really exciting version of roulette and we highly recommend giving it a go. Below you may find a couple of screenshots of how online live roulette looks
Read more about Slots   Read more about BlackJack   Read more about Keno