William Hill Bingo: Introduction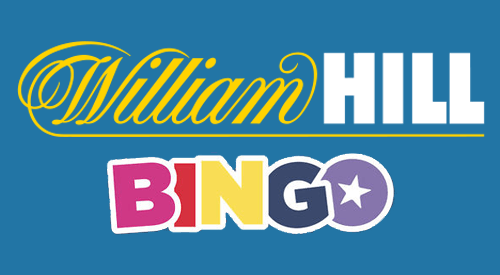 William Hill Bingo is one of the places that become extremely popular when it comes to online games. There are a lot of bingo varieties provided in this room and packing them together with prizes and jackpots makes everything even better. Whether you enjoy a 90-ball bingo game or you prefer the 75-ball alternative, William Hill Bingo has them all. Top quality graphics together with great sound effects give you a unique experience when it comes to the bingo games. Whenever you have a question, you can address it to the support team and in the shortest time you will receive an answer.
William Hill is already a renowned name in the UK and it has grown a lot in the past years. This giant is extremely known for the reliability and quality of its services, making it great for customers that are new and want a warm welcome. Customer satisfaction is important in this business, so that promotions and generous bonuses are a priority in order to keep users entertained even more as they play some games. The variety is big enough and what is better is not that they have games for every taste, but that they have the best games for anyone.
Games and Bonuses on William Hill
William Hill does everything in the proper way and the online bingo games make no exception. There are 18 unique games available to those that want to experience the best features of bingo. There are a lot of different styles available and the most popular one is the 90-ball bingo, although the variants with 75 and 80 balls are also available. Stake levels also vary so even if you have a small or large bankroll, you can enjoy all of the games. However, this room is not just about bingo, as they have a lot of other side games that are designed to bring you more money thanks to progressive jackpots and unique promos.
The team at William Hill Bingo always comes up with new opportunities for its players. The new players that register will also benefit from a £25 bonus. However, if you have a new player, you can also play a week of bingo for free. All of the games can be found in the "New Player Arrival's Lounge" – you can spend some time here before you are prepared to move up and face bigger challenges.
The brains behind the Bingo at William Hill are constantly thinking up new ways to reward their bingo customers for their fabulous play. The two best ongoing promotions offered by the William Hill Bingo team are the £25 new player bonus that every single new player receives and the stunning week of free bingo on offer when a new player signs up. This revolutionary offer means that new players are able to win up to £1,500 worth of prizes while playing for absolutely free! These games can be accessed through the "New Player Arrival's Lounge" and ensure that there is a safe place for new William Hill Bingo players to learn the ins and outs of the game before moving over to the more advanced games.
Bingo Software for William Hill
William Hill work together with their partners, Playtech, to make sure that the software their players are using to play Bingo and other games is of the highest quality. Playtech are the unchallenged kings of creating superb online gaming software. The graphics are second to none while the operating system is intuitive and therefore really easy to use. Most importantly you can play your heart out on any number of games and always have an exciting gaming experience. Never has winning loads of money been so much fun! With the Playtech advanced software William Hill Bingo players are treated to the very best in gaming technology in the world.
William Hill Bingo Mobile
William Hill's mobile platforms for bingo are excellent. They have both a native web app (mobile version of their website) and also a downloadable app, which is available for both iPhone and android users. You can have a look at their mobile review on our best mobile bingo page.
But to an overview is that it has great visuals and ease of use for mobile and tablet devices is second to none. The app works pretty flawlessly, unfortunately it is not available to US players but for anyone playing in the UK or Europe this is one of the best mobile bingo services.
William Hill Bingo Registration
Registration for William hill bingo is exceptionally easy, on both their desktop and mobile set ups. At bingo.org we have actually created a helpful guide on how to sign up at an online bingo site, and we picked William Hill Bingo as an example as one of the best and easiest registration and deposits methods. Here are a couple of screen shots of the registration and deposit process. its a three step process only which is great.
William Hill Bingo Payment Methods
One of the most important factors in a good bingo site is the methods in which you can deposit and withdraw funds to play with. William Hill again tops the ranks for UK bingo sites when it comes to with deposits and withdrawal options.
Currently (and depending a little on your location) you will be able to deposit or withdraw your winnings on William hill bingo via the following methods. Major credit and debit cards- Visa, Visa Electron, MasterCard and Maestro; E-Wallet services such as PayPal, Neteller, uKash, PaySafeCard, Skrill and Click&Buy. They also accept transaction via western union and bank transfer – however these can take up to several days so we suggest using debit/credit or e-wallet services for quicker transactions. If you would like to know more about different payment options for online bingos you can read our full guide on the methods here. below is a screenshot showing some of the payment optiosn William Hill- Bingo offers;
Customer Support for William Hill Bingo
Again top of class when it comes to both the options given for customer support and the quality of the service given by its team. They do not just rely on their reputation but also deliver quality 24/7 support across multiple platforms – including phone, email, live chat and moderators support so you are in very good hands.
The beauty of playing bingo at William Hill Bingo is that due to them being one of the busiest bingo sites online, then you are going to be able to sit down and play some of the biggest paying bingo games online, the jackpots on offer are truly massive, and never forget someone has to win those jackpots and by sitting down to play then that lucky bingo player could be you! With 75, 80 and 90 ball games available there is something for everyone, and fun for all.
The chat injects a lot of fun into the William Hill Bingo experience. Moderators are friendly and chirpy and conversation moves along at a good pace. Chat games are played regularly, and it's well worth participating in these because they offer cash prizes, giving you a chance of making some money even if the bingo numbers let you down. There is also a good range of very impressive slot machine games to play when the fancy takes you. With so much experience behind them, William Hill can't be faulted when it comes to customer service, gaming integrity and data security, and this, along with the atmosphere in the chat room, are more than enough to make us forgive the slightly corporate presentation of the game. If you want a solid, reliable online bingo site with some impressive cash prizes up for grabs then William Hill Bingo on Rakebrain is well worth checking out.
William Hill Security
William Hill use secure data encryption and are validated by Thawte – a leading company for the validation and approval of SSL certificates (the system that ensures that your data and the data transferred around the web is totally secure). Various other methods of identification and secure questions for your account, as well as a password validator ensure all possible steps are taken to make sure both your personal details and any transaction you make are safe.
William Hill bingo in the UK is regulated by the Gambling Commission, if you are playing from elsewhere in Europe they are regulated by the Gibraltar Gambling Commission. Both these bodies are the highest order of regulators to ensure all the gaming done though will hill is legitimate and both game play is totally safe from cheating and personal data is also looked after.