The history of bingo, is a tale and a half, make sure you're sitting comfortably. Bingo has a long history, starting in Italy circa 1530 and being modified and adapted across borders in Europe before taking America by storm as a carnival game in the 1900s, by the name of "beano". No matter where bingo is being played it brings the same great joy and excitement as players come together across the globe to share the thrill of a lively game.
History of Bingo in Europe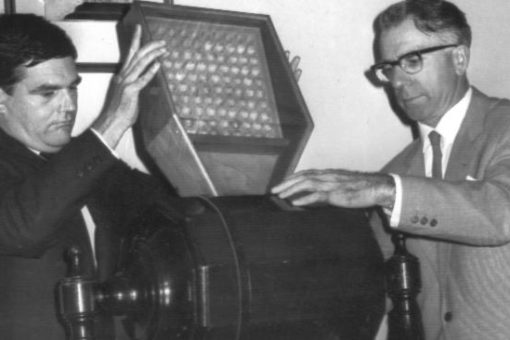 Italy is the history of bingo began, the birthplace of bingo, but in the form of a national lottery, "Lo Giuoco Lotto Italia". This was all the way back in 1530 when bingo was invented. We guess that makes the Italians trendsetters from the word go- quite literally- as this was just after the country became unified. It has been played weekly ever since, almost without pause (aside for a national catastrophe here and there).
It may be hard to imagine, but 1530s Saturday night Lotto was incredibly similar to the 90 ball bingo we play today. Players had cards with rows, and winning numbers were pulled from a sack as players scrambled to match their numbers first, revealing the winners and losers. By the late 1770s, Lotto had become so popular it crossed borders for the first time, spreading to France as "Le Lotto". The French shook things up a bit and the bingo cards were modified into the standard 3 rows, 9 vertical, that now make up a 90 Ball bingo card today. When Lotto found its way to Germany in the 1800s it was as a child's learning game to teach anything from numbers to adjectives.
History of bingo fact: Did you know? You'll still come across bingo variants in schools today as it can be used to teach numbers and vocabulary!
History of Bingo in the UK:  The Birth Place of Bingo Lingo
 Bingo hit the UK in the 1800s, around the same time as Germany. It took the country by storm, and is till today, one of the most popular games. Whilst the Brits didn't change the game much, they did start the tradition now known as Bingo Lingo.
Bingo Lingo is the name given the famous bingo calls. They are steeped in history and mostly, originate from cockney rhyme and slang. Cockney Rhyme and slang comes from the East End of London and you're sure to have picked some up when you've heard bingo callers at a live hall. Remember number 25, otherwise known as "duck and dive" and number 86-"between the sticks". If you're new to bingo, find learn more about Bingo Lingo and become a bingo pro in no time with our Bingo Lingo Quiz, this is great practice for anyone planning on playing live bingo!
History of Bingo in the USA
Fast forward through the history of bingo to just over a century or so more, and bingo had made it almost across the world, but under a different name. The first instance of bingo AKA "beano" to our North America fellows, was in 1929. It hit it big as a carnival game in Atlanta, Georgia.
In the history of bingo, this is a pivotal point. Up until now, bingo had been called anything but bingo. The reason it turned from "beano" to bingo is actually quite funny. A toy salesman named Edwin Lowe overheard a beano player scream "Bingo!" accidentally. He thought that bingo had a better ring to it and would be better for marketing purposes. Lowe had been working on the game to mass produce it and had friends over at his apartment to test it out, which is when "Bingo" slipped out of one over-excited player's mouth and basically became the name we all now play under and excitedly call out when we win!
"I cannot describe the strange sense of elation which that girl's cry brought to me," Lowe said. "All I could think of was that I was going to come out with this game, and it was going to be called Bingo!"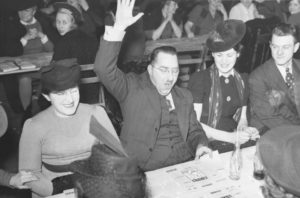 Lowe sold his first product 12 cards for a $1, and 24 cards for $2 but there were always too many winners in each game! Lowe also decided he needed to increase the number of squares on the bingo card to make it take off commercially. He searched for a partner and met a math professor named Carl Leffler. Leffler taught at the University of Columbia and agreed to help Lowe with his venture. Leffler toiled over the mathematical possibilities and came up with a total of 6000 different bingo cards for production. Rumour has it, after he completed this task Leffler went completely insane. Soon after the game was ready to be mass produced, a Catholic priest asked Lowe if he could use the game in churches to raise funds. Lowe's agreed and soon more and more churches were playing his free game. Since so many people were playing bingo at church, it grew in popularity very quickly in the mainstream too.
By 1934, there were roughly 10,000 bingo games played weekly by Americans. Today, more than $90 million is spent on bingo in just North America every single week and all this under the name we all love, bingo! America may have contributed most to the history of bingo and the modern-day version of the game, but here are a few of bingo's biggest winners to get you in the mood for a game.
History's Biggest Ever Bingo Winners
All players have their highs and lows when playing bingo online. That goes with its nature as a totally random game. If you're looking for a little inspiration, here's the history of some of the biggest bingo wins of all time:
A lucky 60-year-old British grandfather, John Orchard, scoops up the world's biggest ever online bingo win of £5.9Million on a 30p bet. He took over the title of biggest ever win from Georgios, 36 of Greece who took home a cool £5.1mill in 2009. This was certainly setting new boundaries for the kind of jackpot wins available to adventurous online bingo players! John has since left his job and is enjoying his new luxury lifestyle.
Having already mentioned our second biggest bingo winner, it's pertinent to say that not much is known about Georgios, M. He is a businessman who'd rather keep himself to himself
In 2016, on a sleepless night, glamorous grandmother, Christine Johnstone, won 1.3million on a midnight bet on bingo (take note of the time for off-peak strategists). Whilst she often liked to play at night so as to not disturb her husband, this was unlike any other playing session as she'd won the progressive jackpot with lightning speed before 1 a.m.
History of the Bingo World Records
Bingo's been through some epic adventures over the centuries and that's led to some amazing bingo world records being set throughout the history of bingo. Here are the most magnificent!
Did you know? The largest ever game of bingo was played in Bogota, Colombia on December 2nd

, 2006. A massive 70,080 people showed up to the play bingo in one single game. There was a total of £250,000 paid out in prizes, the energy must have been insane!
Where do you think the highest game bingo has been played? Take your wildest guess…Everest, by Coral Gala employees in 2009. That's right ladies and gents, Mount Everest. Taking the award for highest ever game, 17,500ft above sea level, 24 Coral Gala employees slogged it up, stopped for a game and made it back down raising money for charity along the way. These guys are pretty much modern day bingo heroes.
Where do you think the largest ever online game of Bingo was held? With a record turnout of 493,824 players, the answer is of course, Tokyo, Japan.
Did you know? A game of bingo took the record for playing with "the largest balls" in 2014, on the set of Coronation Street in Manchester. Raising money for male cancer awareness, bingo balls cascaded from windows. The balls were more than 60 cm in size and a huge £10,000 was raised!
Bingo Today
Bingo is now one of the most popular games in the world, the millions of players are a tribute to that. Bingo is so easy to pick up, it's impossible to get lost in translation and a great game to bring people together, and get them chatting. Whether it's being played in the classroom or online, it's a great game of fun, luck of the draw and speed.
Bingo the European Way
Bingo is enjoyed by keen players worldwide, both online and in person. In Malta and Italy (in both countries there is a long history of bingo), it's common on a Saturday or Sunday night for local towns to set up bingo sessions and play as a community. Long tables and chairs pop up, a well-practised bingo caller hits the mic and old and young come out together at dusk to enjoy several rounds of 90-ball bingo. It's not long till cheers and shouts of 'fatta!' (Bingo) echo over the evening as excitement builds and the wins come quickly.
History of Online Bingo
For a short history of modern bingo, we only need to look as far as the internet. Bingo first went online in 1996, with a free play game, "Bingo Zone". Since then, leaps and bounds have been made with bingo software creating a huge amount of games, mobile sites and apps. Bingo easily lends itself to being online and there's now a massive choice on offer to players over the way they play bingo. It's never been more fun, flexible or as secure before. There is also more room for innovation online, which has led to the creation of variants such as pattern bingo- where pretty much anything can go. With more than 10,000 games of bingo being played every day online, our favourite game has come a long way! The history of bingo is certainly an interesting tale. Having been first played in 1530 it was one of the earliest invented classics that have been reborn online.