A lot of people are aware of what a drug addiction or alcoholic addiction is, however many people are oblivious to the fact that there is such thing as a bingo addiction. Believe it or not, there are some people that can honestly admit to being addicted to bingo. A zeal for the game is nothing to be ashamed of, however when your desire to engage in a game of bingo gets out of control the problem begins.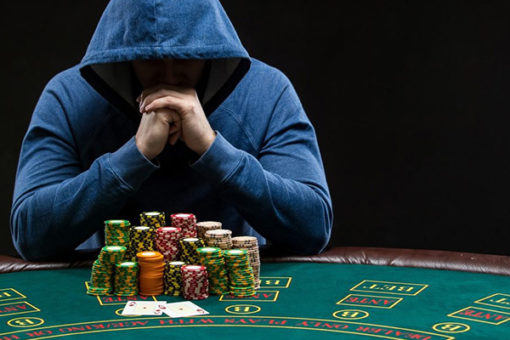 A Bingo addiction can happen to anyone that avidly enjoys engaging in the game, regardless if the bingo game is played online or offline. A person that is considered to be a compulsive gambler is defined as an individual that engages in an act of gambling despite the consequences that may occur because of their actions.
The implementation of online bingo and other online gambling places has actually increased the chances of someone developing a bingo addiction due to the ease of access and with the development of mobile bingo in recent years the accessibility for users only continues to grow and with it the risk of problem gambling. A lot of people begin engaging in a game of online bingo and other gambling acts for the fun of the game. But, when the game begins to take over your life, a compulsive addiction can develop that can really damage not just a person's life but the lives of their family and friends.
To identify if you think you or someone you know may have a gambling or bingo addiction first you should look for the following warning signs below. Also be aware as gambling addiction is a hidden addiction which usually does not have "physical signs" and therefore it's even more important to be vigilant in looking into someone's behavioural patterns. Bingo / Gambling addiction can happen to anyone regardless of age, ethnicity, male or female, wealthy or poor and while links have been found with family members being more likely to experience gambling problems if other members of the family have had/have a problem that does not mean that it is either genetic and / or that someone without a family history of addiction cannot become addicted. These are warning signs you should look out for and can be indicative of people suffering from bingo or other gambling addictions;
Persons finds it hard to stop or manage their gambling
Persons spend more money and time on gambling than they can afford.
Person has arguments with close friends and family about money and or gambling.
Person loses interest in their normal activities and hobbies – this can range from work, to spending time with family and friends to loss of interest in dedicated hobby.
Person always talks and thinks about gambling.
Persons start lying about their gambling.
Person chases losses or gambles to get out of financial difficulty.
Personal gambles away a lot of or all of their money.
Person borrows money, sells their possessions or does not pay bills in order to "feed" gambling habit.
Chasing the buzz – i.e. wagering larger amounts or more often.
Neglecting general responsibilities – household work, jobs, and families.
A feeling of anxious worried guilty, depressed and or irritable.
Online gambling becomes a bingo addiction when it distracts you from your everyday activities. A lot of people that are addicted to bingo do not realize that they have a problem until it is too late. Bingo is a game that is meant to be fun and exciting, but it can get out of hand. The adrenaline rush, the anxiousness of getting close to winning can make everyone get a little too excited.
However, when you realize that your Bingo addiction or that of a friend or family member is interfering with your / their life, personal affairs and your job you must seek help in order to help overcome these problems. Help is readily available, confidential and can help you bring the problems under control.
Gambling Addiction Help in the UK
If you think you have an issue with gambling and bingo addiction there is a great deal of help available to you. If you live in the UK there is the National Gambling Helpline
Freephone 0808 8020 133 (lines are open 8am till midnight 7 days a week, they also have an online chat function where you can talk to support members. All of your information will be kept confidential and the supports services are fantastic so don't hesitate to contact them. Other organisations that can help you and offer advice are as follows;
"When The Fun Stops – Stop"
A very good campaign at the moment from GamleAware is based on the tagline to help people with their responsible gaming; "when the fun stops – STOP! And a few pointers from them include;
Set you limits & only bet what you can afford
Never chase your losses
Don't bet if you are getting angry or feel you are losing control
Never put betting before your friends and family
Here are a couple of their recent adverts which help underline the problems and advice.
https://youtu.be/G7C0d7TN7FQ
https://youtu.be/x0orOTrRCgg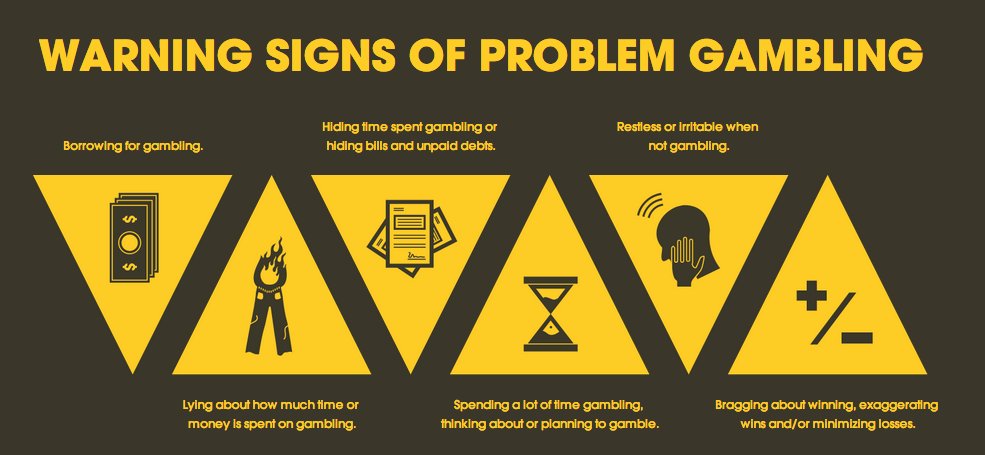 Gambling Addiction Help in the USA
As we mentioned it doesn't matter where you are form gambling can become an addiction or problem and the US is no different and people here can become addicted to bingo and other games. Here are some contacts for those in America who are dealing with addiction.
Call 1-800-522-4700
Chat ncpgambling.org/chat
Text 1-800-522-4700
NATIONAL COUNCIL ON PROBLEM GAMBLING
The vast majority of other nations have similar help for people suffering from addiction and it's a serious matter, but there is help and hope. If you feel you or someone you know has a problem with bingo or gambling addiction please reach out to them and to the help organisations that have such a wealth of experience and are really great at helping those suffering to come to terms with and get out of their addictive habit.
Statistics on Gambling Addiction
On very common conception of problem gambling is that it doesn't happen often and that "it won't happen to me" well below you will see some statistics on gambling addiction that should tell you just how widespread it is and shows it can happen to anyone; "it won't happen to me" is probably what everyone one of those affected say..
Around 5% of all gamblers suffer from serious addiction.
6 percent of US college students exhibit struggles with gambling problems.
Those with alchol issues are 23 times more likely to have gambling issues addicitons as well.
Between 12 and 29 percent of persons suffering from post-traumatic stress disorder (PTSD) are "problem gamblers"
In 2012 the NCPG stated that 5.77 million people in the USA were considered disorder gamblers and would be in need of treatment.
73% of Britons partake in at least one form of gambling in a year.
The number of "self exclusion from bingo games alone from problem gmabelrs rose from 347 in 2008/9 to 1205 in 2013/14 – that's a rise of 75% in 5 years.
These stats were sourced from
Reputable Gaming Companies and Addiction
One thing people should be aware of and usually are not, is that part of conditions of receiving gambling license to operate in online gaming (from bingo, casino, sports betting, poker and any other types of online gambling) usually stipulates that the company operating the games must have a team that's sole job is to identify players who are exhibiting signs of problem gambling and to wither stop them playing and give them advice as to where to find help, the companies must be committed to identifying and reduce the amount of problem gaming on their sites. Some less reputable companies do not do this and therefore one of the things we first look for when reviewing a bingo site is do they have a responsible gaming initiative, team and policy to adhere to this. If they do not then they are NOT listed on bingo.org. We urge all players to talk to the bingo rooms support teams to find out what both you and they can do to help or prevent the issue of bingo or gambling addiction.
Bingo is one of the greatest games and so much fun can be had, but please be responsible and as the slogan goes "When the fun stops – STOP!!"